I'm typing this, whilst I wait for the blogger to (hopefully) upload my pics again. Somehow - I don't think its going to be happening! I keep getting an error message :(
I'll give it one last try and upload the pics to photobucket if it still doesn't work, failing that I will have to ask for help!! Ah - its done it...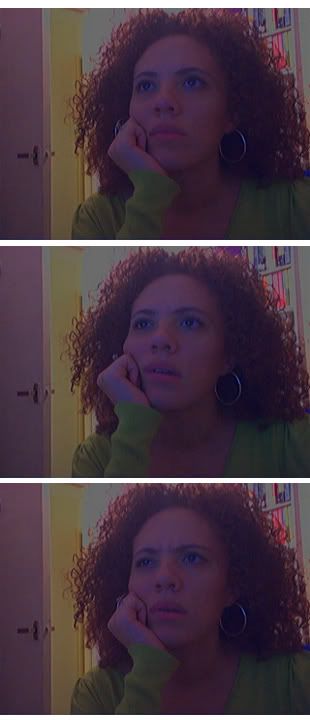 So the above photos were taken on my web cam, as I was suffering from cant-be-arsed-erenteritis, a common complaint I believe - and I therefore had no motivation to fanny about with my SLR - I mean, that would have actually involved going downstairs for it!!! Naaaaa...... anyway, the web cam didn't seem to be working properly. I kept clicking on the darn thing and nothing seemed to be working, until I heard a really loud noise that sounded like a gunshot (almost causing me to fall off my chair) because I had my speakers turned up far too loud. Apparently, the camera had a three second delay on it, and took three photos, one of me normalish, trying to figure out what I was doing wrong, one of me getting more confused, and the final one with me getting near peed off, because I couldn't fathom it out. If only it had took another, when the loud noise had happened - would have loved to have seen my scared mush! And on a brighter note, at least it isn't one of those annoying CHEESE!!!! pics that I usually do for Saturday lol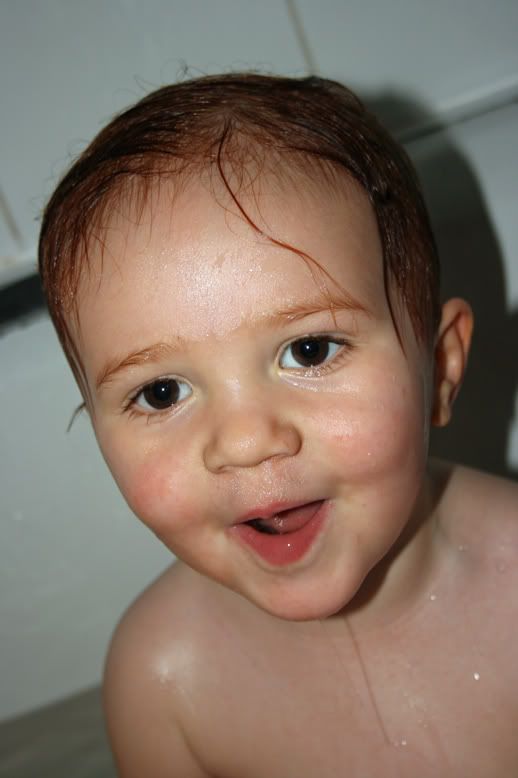 This next one is of my little man - I love it! He was pulling some really funny faces whilst trying to get the lid off his shampoo. I have a few others of him contorting his face into all sorts of expressions. You could be having the cackiest of days, and you just have to look at him and he'll flash you this gorgeous smile, and nothing seems to matter. Discovered yesterday that he is sensitive to something in tomato ketchup, and it cant be the tomatoes because he eats them like apples! Momos, he calls them. His little face came out in a red rash, so shall have to investigate further - it happens with a few other things too.
We went to see our friend's 8 day old baba yesterday - how cute!! He weighed 6 pounds at birth and was teeny, cute chubby little cheeks and he was sticking his bottom lip out!! I was slightly worried that I would get all broody, as us women often do in the presence of cute cuddly wee ones, but no! I mean, I would love loads of kids, but I still remember those early days, well. The ones where my boobs felt like they were going to drop off with the initial pain of breastfeeding and a very hungry baby, the exhaustion of sleepless nights, the pain of going for a simple wee etc. Mind you, it was a wonderful time and I loved it - NO STOP, no more babies for me just yet! Unfortunately, my Shaun is still in the 'getting to know softly' stage, so when he went to stroke the baby on the head, it ended up being more of a hard pat. He then proceeded to ransack the house, pulling off expensive model cars from a table and other mischievous tricks. What fun!

And this final pic, is some of my little man's artwork! He loves painting, getting it all over his face and hands. He ended up with a little streak of green paint under his eye, which ended up looking like eyeliner, with him resembling a young Russell Brand/Johnny Depp in pirates of the Caribbean, minus the facial hair of course - made me chuckle! Only trouble is now - its one of the first things he goes for in my craft room, shouting PAINT! PAINT! And attempting to squeeze it out of the bottles on the floor. Bless. So now, I better go, but not before mentioning its my turn to post over on Blog Til You Drop today - pop over and have a looksee? I'll be doing it shortly, hope the pic upload starts working soon!
Thanks for stopping by - I will catch up with your pics now, and then post my BTYD stuff! Have a good day folks!